Reference materials and papers
---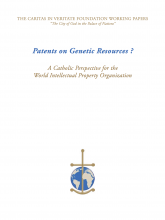 Caritas in Veritate Foundation report
For a broad understanding of the theological and ethical background to the main theme of the 'Patents on Life' conference, see this VHI-led report, commissioned by the Caritas in Veritate Foundation:
The report was prepared with a view to helping the Holy See prepare a position during the World Intellectual Property Office (WIPO) intergovernmental committee negotiations on a new international treaty on Genetic Resources and IP. It was headed by our conference leader Dr. Roman Cholij, and features contributions by one of our main speakers, Dr. Carlo Marenghi, alongside a selection of recent texts from the Church's engagement regarding intellectual property and genetic resources.
---
Margo A. Bagley
William and Mary Law Review 45 (2003): 469-547
Abstract: This article explores the U.S. "patent first, ask questions later" approach to determining what subject matter should receive patent protection. Under this approach, the U.S. Patent and Trademark Office (USPTO or the Agency) issues patents on "anything under the sun made by man," and to the extent a patent's subject matter is sufficiently controversial, Congress acts retrospectively in assessing whether patents should issue on such inventions. This practice has important ramifications for morally controversial biotechnology patents specifically, and for American society generally. For many years a judicially created "moral utility" doctrine served as a type of gatekeeper of patent subject matter eligibility. The doctrine allowed both the USPTO and courts to deny patents on morally controversial subject matter under the fiction that such inventions were not "useful." The gate, however, is currently untended. A combination of the demise of the moral utility doctrine, along with expansive judicial interpretations of the scope of patent-eligible subject matter, has resulted in virtually no basis on which the USPTO or courts can deny patent protection to morally controversial, but otherwise patentable, subject matter. This is so despite position statements by the Agency to the contrary. Biotechnology is an area in which many morally controversial inventions are generated. Congress has been in react-mode following the issuance of a stream of morally controversial biotech patents, including patents on transgenic animals, surgical methods, and methods of cloning humans. With no statutory limits on patent eligibility, and with myriad concerns complicating congressional action following a patent's issuance, it is not Congress, the representative of the people, determining patent eligibility. Instead, it is patent applicants, scientific inventors, who are deciding matters of high public policy through the contents of the applications they file with the USPTO. This article explores how the United States has come to be in this position, exposes latent problems with the "patent first" approach, and considers the benefits and disadvantages of the "ask questions first, patent later" approaches employed by some other countries. The article concludes that granting patents on morally controversial biotech subject matter and then asking whether such inventions should be patentable is bad policy for the United States and its patent system, and posits workable, proactive ways for Congress to successfully guard the patent-eligibility gate.
---
Margo A. Bagley
University of St. Thomas Law Journal 10 (2014): 683-713
Abstract: A parable is a short story, generally used to illustrate a moral or relig- ious lesson. In the Bible, Jesus Christ used parables to instruct us on how we should live our lives in the light of eternity. Christ's parables often appear simple, yet upon deeper reflection and study, their multilayered depths and wide applicability become apparent. These stories contain not only spiritual truths but also universal precepts for living, and for law. In fact, legal commentators have used Christ's agrarian parables to shed light on issues as diverse as environmental ethics, capital punishment, dispute resolution, and professionalism. This essay, written for a symposium on Intellectual Property and Religious Thought, adds plant patenting disputes to that list. In particular, it provides comparisons between the Parable of the Wheat and the Tares and issues surrounding the contamination of crops by GM species; the Parable of the Growing Seed and broad inventorship and exclusionary rights over self-replicating organisms; and the Parable of the Sower and the Seed and the insertion of genes from foreign species into seeds. Insights from these comparisons should provide food for thought for interested parties, jurists, and policymakers addressing issues involving patents on self-replicating plants.
---
Thomas C. Berg
University of St. Thomas Legal Studies Research Paper No. 07-06
Journal of Catholic Social Thought 5 (2008):
193-233
Abstract: This article, written for a symposium on the meaning of the Catholic doctrine of the preferential option for the poor, examines that concept as applied to problems of intellectual property. IP lies at the heart of debates over globalization and whether it is working to help poor nations or to impose new costs on them while increasing the wealthy nations' relative advantages. The Catholic Church has weighed in on these issues, most clearly in favor of limiting patent rights over essential medicines for combating AIDS and other epidemics. The Catholic doctrine of the preferential option for the poor puts the condition of the poor at the forefront of public-policy concerns, subjecting private property rights to a social mortgage for the satisfaction of essential human needs. But this and related doctrines also set forth themes for how the poor are to helped: the importance of empowering people to exercise their own creativity and productivity, and the value of subsidiary organizations as contrasted with the bureaucracy involved in state solutions. Thus Catholic thinkers debate in general whether limits on property rights help the poor in the fullest sense.
This article argues that recent Catholic statements endorsing limits on IP rights are well founded: that whatever position one takes generally on property rights and the poor, the principles of the preferential option point toward a skepticism about broad IP rights. Intellectual property, like other forms of property, serves important purposes related to human dignity, productivity, and (especially) creativity, and Catholic teaching therefore affirms it. But for a variety of reasons, limits on intellectual property are equally important: the full extension of IP rights may harm the poor, and certain limits on those rights are important to benefiting and empowering the poor. In particular, certain existing or proposed limits on IP rights can resonate with Catholic concepts such as maintenance of the common good and the importance of subsidiary organizations defined neither by the state nor by the market. And expressions of skepticism in Catholic thought about bureaucratic approaches to the poor reflected in the social assistance state have relatively little application to the kind of limits on IP rights that may be adopted to empower the poor.
---
Paul J. Heald and Susannah Chapman
University of Illinois Law Review (2012): 1051-1102
Abstract: The conventional wisdom, as illustrated for millions of readers in the July 2012 issue of National Geographic, holds that the twentieth century was a disaster for crop diversity. In the popular press, this position is so entrenched that it no longer needs a citation. We conduct a study of all vegetable and apple varieties commercially available in 1903 and compare them with all varieties commercially available in 1981 and 2004. We question the conventional wisdom and cast serious doubt on the 1983 vegetable crop diversity study that previous commentators have taken as gospel. We also enter the debate between economists and social scientists on the role that patent law might play in destroying or enhancing crop diversity. Both sides may be wrong. Our data suggest that patent law has not reduced crop diversity, nor is it likely to have significantly contributed to the introduction of new vegetable varieties. The diversity loss thesis espoused by ethnobotanists is as suspect as the incentive-to-invent story told by patent economists, at least regarding the most common vegetable crops. Finally, we provide one of the first analyses of innovation in any comprehensive technology market by identifying the source of all products in the vegetable market and current commercialization rates for all patented innovations. This paper goes significantly beyond our prior three related postings of preliminary data.
> For other of Prof. Heald's works, see here.
---
Joshua D. Sarnoff
Hastings Law Journal 63 (2011): 53-126
Abstract: The U.S. Supreme Court has continued to require that patentable subject-matter eligibility determinations be made by reference to three historic, categorical exclusions (scientific principles, natural phenomena, and abstract ideas), which must be treated as if already known even when newly discovered by the applicant. Various thoughtful scholars have alternatively urged that these exclusions should be viewed restrictively or that such eligibility decisions should be avoided. But these scholars underappreciate the systemic and social benefits of categorical exclusions, and particularly of treating these categories as if they were already known prior art. In any event, the Federal Circuit, the U.S. Patent and Trademark Office, and the public must now draw lines between eligible inventions and ineligible applications of excluded discoveries.
This article supplies a history and theory of subject-matter eligibility to guide such line drawing, based on the recognition that (for both eligibility and patentability) the Patent Act has always required, and still requires, creative, human invention in the application of such categorically excluded discoveries. So long as these basic discoveries continue to be treated as if already known, relying on threshold eligibility determinations will improve efficiency and reduce patent-system errors. Supplying clearer criteria for the additional creativity required for eligibility will further reduce overall patent-system burdens and will better direct investment, effort, invention, and disclosure towards more creative, patentable applications. These categorical eligibility exclusions were justified historically on both deontological and utilitarian moral grounds. Prudence counsels retaining them, given the high social stakes involved, the lack of theoretical or empirical demonstration that competing innovation approaches are better, and the moral concerns that would be raised by their elimination. The Article thus concludes with an exhortation to celebrate rather than to reluctantly embrace categorical exclusions of patentable subject matter, their prior-art status, and the line drawing that eligibility determinations require, to better protect the public domain of science, nature, and ideas while simultaneously improving the patent system.
---
Joshua D. Sarnoff
Texas Intellectual Property Law Journal 19 (2011): 393-418
Abstract: This article briefly explains the current and conflicting doctrinal standards for eligibility exclusions adopted by the Supreme Court in Bilski that the Federal Circuit and the U.S. Patent and Trademark Office (PTO) will have to apply to claims for the discovery of medical and biotechnological inventions in Part II. Part III analyzes the Federal Circuit's decision in Prometheus and relates it to the earlier Supreme Court Laboratory Corp. case, which addressed a medical diagnostic patent but did not result in an issued decision. Part IV describes the Myriad case and the issues that it raises. Throughout this article, the focus is on how the current doctrine determines eligible and ineligible applications of categorically excluded science, nature, and ideas. Additionally, this article discusses the difficulty in drawing lines regarding eligibility of claimed inventions, systemic benefits of employing eligibility exclusions, and the utilitarian and deontological moral concerns, e.g., social and innovation harms, raised in regard to such applications. The article concludes with a brief projection of the continuing contested future of medical and biotechnology eligibility determinations, and the recognition that patentable subject matter eligibility will remain a controversial area in the United States and around the globe.
---
Other recent publications by our speakers and panellists
---
Julian Cockbain and Sigrid Sterckx
Exclusions from Patentability reviews the history of the adoption of exclusions from patentability under the European Patent Convention since its first conception in 1949 through to its most recent revision. The analysis shows how other intellectual property treaties, such as UPOV, the Strasbourg Patent Convention, PCT, the EU Biotech Directive and TRIPS have affected the framing of the exclusions. Particular attention is given to those exclusions considered the most contentious (computer programmes, discoveries, medical treatments, life forms and agriculture) and those decisions which have been most influential in shaping the approaches by which the exclusions have been interpreted. The 'morality' exclusion and the interpretation of the exclusions are discussed critically and suggestions for coherent interpretation are made. (CUP, 2012)
---
Graham Dutfield
A highly readable and entertaining account of the co-evolution of the patent system and the life science industries since the mid-19th century. (World Scientific, 2009)
> For other of Prof. Dutfield's works, see here.
---
Ruth Okediji and Margo A. Bagley (eds)
Addresses critical and timely questions in patent law from a truly global perspective, with contributions from leading patent law scholars from various countries. Offering fresh insights and new approaches to evaluating key institutional, economic, doctrinal, and practical issues, these chapters reflect critical analyses and review developments in national patent laws, efforts to reform the global patent system, and reconfigure geopolitical interests. (OUP, 2014)
---
Katerina Sideri
Asks three main questions: first, what are the ideas, goals, and broader ethical visions that underpin questions of governance and the legal reasoning employed by administrative agencies? Second, how can we democratize the decision making process of technocratic institutions such as the European Patent Office? Finally, how can we make the global intellectual property system more equitable? (Ashgate, 2014)
---
[this list is being continually updated]