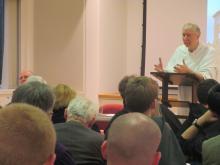 On Wednesday, 23 October, 2013 Father Timothy Radcliffe OP delivered the Lattey Lecture 2013 with the title What authority does the Word of God have in the Catholic Church? The Lecture  inaugurated the new VHI Seminar Series on "Faith and Governance" for the academic year 2013-14.
Timothy Radcliffe is the Former Master General of the Dominicans and a member of Blackfriars Hall, Oxford and  Las Casas Institute, which works on issues of social justice, governance and humanitarian rights. He is on the board of CAFOD and is Chair of the theological commission of Caritas International and the patron of the International Young Leaders Network. Radcliffe is an internationally distinguished author and speaker. His book What Is The Point Of Being A Christian? won the Michael Ramsey Prize in 2007.
The Lattey Lecture was endowed by Fr Reginald Fuller, a noted Catholic scripture scholar, on the occasion of the Catholic Biblical Association of Great Britain to commemorate the Golden Jubilee of its foundation at St Edmund's in 1940, by its first President, Fr Cuthbert Lattey, S.J.
The Paper delivered by Fr Radcliffe and the Audio-recording of the lecture are available online.