Seminar Series: Faith and Governance
Professor John Loughlin will deliver the final lecture in the 2013-14 Seminar Series Faith and Governance on the topic of Faith and the Modern State.
The lecture will explore the role that theology played on the formation of the modern state from the 16th century onwards. It will also examine the secularisation of this state between the 18th and 20th centuries, asking whether religious groups have any place in the public square or whether they should be consigned exclusively to the private sphere.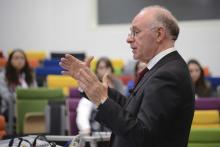 Professor Loughlin is Director of the Von Hügel Institute, Fellow of St Edmund's College and Senior Fellow in the Department of Politics and International Studies, University of Cambridge. He has carried out extensive research on territorial politics in Europe, the relationship between religion and politics, religious freedom in international affairs and the relevance of Christian personalism. He is a Fellow of the Royal Historical Society, Fellow of the Royal Society of Arts, Fellow of the Academy of Social Sciences, Fellow of the European Academy of Sciences and Arts and Fellow of the Learned Society of Wales.
The lecture will take place in the Garden Room, Library Building, St. Edmund's College. There is no need for reservation, all are welcome.
Date:
Friday, 23 May, 2014 -

17:00

to

18:30
Event location:
St Edmund's College, Garden Room