In considering the challenge bioethics presents to policy-making and legislation, Claire will draw on her experience of establishing Westminster Abbey Institute, which seeks to revitalise moral and spiritual values in public life, working with the legislature, the executive and the judiciary and all the Abbey's public service neighbours around Parliament Square.  The Institute is not a think tank: it does not comment on policy nor take party political sides.  The Institute's approach is to offer the context of a Benedictine welcome of spiritual stability and openness, and then apply rigorous moral philosophical thinking to the underlying good that policymaking seeks to do.  Using this approach, Claire will consider two issues in bioethics that have challenged law-makers: embryo research and assisted dying. 
This paper is now available online.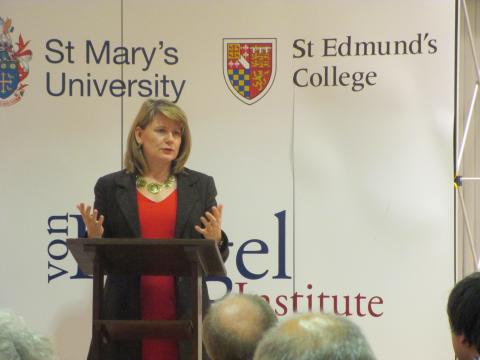 About the speaker: Claire Foster-Gilbert is the Director of the Westminster Abbey Institute. She has a background in ethics, regulation and public theology and is a member of the British Medical Association's medical ethics committee.
This lecture is part of the Themed Lecture Series: 'Ethical Standards in Public Life', co-sponsored by the Von Hügel Istitute, St Mary's University Twickenham and Las Casas Institute, Blackfriars Oxford.
Date:
Thursday, 5 February, 2015 -

17:00

to

18:30