This is the concluding seminar of the Themed Lecture Series: 'Ethical Standards in Public Life' 2014-15, jointly organised by the Von Hügel Istitute, St Mary's University Twickenham and Las Casas Institute, Blackfriars Oxford.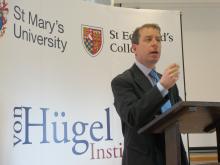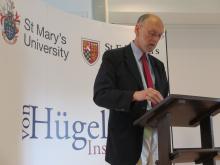 Is Just War Theory still relevant in the 21st Century?
Speakers:
Field Marshall Lord Guthrie
Professor Nigel Biggar (McDonald Centre for Theology, Ethics and Public Life, Christ Church, Oxford)
Dr George R. Wilkes (Director of the Religion and Ethics in the Making of War and Peace project and Research Fellow in the School of Divinity, University of Edinburgh). 
The seminar is co-sponsored by the Centre of International Studies (CIS) and the Churchill Archives Centre, University of Cambridge. This event is also part of the Churchill 2015 - 21st Century Statesmanship Global Leaders Programme.
Date:
Thursday, 28 May, 2015 -

17:15

to

18:45
Event location:
St Edmund's College - Garden Room