A workshop on 'Faith, Governance and Public Policy' jointly organised by the VHI and the BISA working group on Religion Security and IR
On Friday 21 March 2014 from 1.15 pm - Venue: The Garden Room, St Edmund's College, Cambridge
This workshop intends to facilitate a frank conversation and an exchange of experiences and information between academics of all levels of seniority and practitioners (e.g. policy makers, civil society actors, and 'faith representatives', for lack of a better definition) around the relationship between religion and politics with a concrete public policy focus. Participants are deliberately drawn from different backgrounds and will not necessarily be all experts of public policy or religion. It is important though that they share a common concern with understanding or analysing or facilitating human coexistence and global order (whether from a religious perspective or not) and are intellectually open to discussing what is the relevance of religion in all this. We start from the assumption that despite coming from the most diverse walks of life and working within different parameters, all participants will have been involved in thinking about or responding to major policy challenges that affect different equilibria and levels of human security, domestically or globally.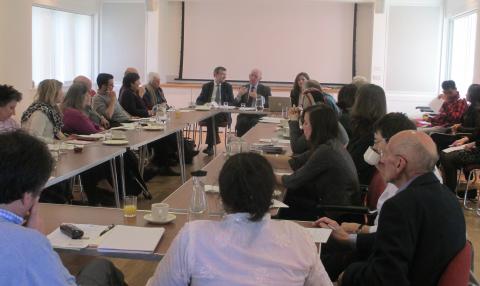 To emphasise the dialogic spirit of this endeavour, the workshop is intended as a round table conversation, where the role of the guest speakers is simply that of providing brief starting points for collectively tacking the questions under consideration. So, there will be no divide between speakers and audience as all participants are expected to equally engage in the conversation. We hope with this effort to contribute to a critical reflection on how better to understand, both conceptually and in practice, whether and in what ways religion and faith-based actors can be relevant to addressing key questions that emerge in governance and public policy and what synergies with secular institutions exist or could be developed.
Jointly organised and co-sponsored by the Von Hügel Institute (VHI) in Cambridge and the working group on Religion, Security and International Relations of the British International Studies Association, this event is both part of the VHI initiatives of religion and governance and is also the first of a series of three workshops on Faith, Governance and Public Policy of this BISA working group. The next events will tackle the sub-themes of migration (London, 2 April) and the ethics of war (Edinburgh, 16-17 June). For more information contact the working group convenors Dr Sara Silvestri and Rev. Rosemary Durward.
PROGRAMME
START TIME: 1.45 for 2pm (with registration open from 1.15pm) arrival, registration and sandwich lunch for speakers
2pm: WELCOME and SESSION ONE
-       Thinking beyond institutional frameworks regulating church-state relation, what place is there in public policy for engaging with religious values, identities, and/or faith-based actors?
-  In what ways, if at all, can religion offer something valuable for addressing key challenges in global governance?
-       what criteria are followed for listening to and incorporating the concerns of faith-based groups (if at all)?
Chair: Prof. John Loughlin (VHI, Cambridge)
Speakers (max 10mins each):
- Prof. Andrew Gamble (University of Cambridge)
- Mr Francis Campbell (Foreign and Commonwealth Office)
- Prof. Peter Willetts (City University London)
2.30-3.05pm: Conversation with all participants on basis of initial remarks by guest speakers and guide questions
3.05-3.15pm: coffee break
3.15pm: SESSION TWO
-       In what ways have secular and religious actors (i.e. individuals, religious orders, NGOs and also state and international institutions) been able to mobilise and collaborate on shared issues of concern in global governance and public policy?
-       How do they converge or diverge in their approaches?
-       In what ways have the FBO present in this workshop contributed to policy developments in relevant fields?
-       What difficulties and what successes have they encountered?
Chair: Rev. Rosemary Durward (King's College, London)
Guest speakers (about 10mins each):
- Fr David Glenday (Secretary General, Union of Superior Generals)
- Ms Louise Zanre (director Jesuit Refugee Service)
- Ms Michelle Gyeney (Islamic Relief representative)
3.45-4.20: roundtable discussion including all participants, starting from questions and remarks above
4.20-4.30: Chair: Dr Sara Silvestri (City University London & VHI)
General discussion on
- What can we draw from this discussion that can inform our pol.science/IR understandings of religion?
- What is the relevance of religion and faith-based actors for addressing key challenges in governance and public policy?
4.30pm: Final remarks and conclusions
4.40pm: departure
Attendance is free but you must register in advance as there is a limit to the number of participants that the room and the format of this workshop can accommodate. Members of the British International Studies Association and doctoral students will have a priority in the registration. There is a small number of bursaries available to support the travel of doctoral students who are members of BISA and whose research is relevant to the discussion.  For information please contact Dr Sara Silvestri.
To register please write to the VHi research administrator: Ms Lidia Ripamonti.