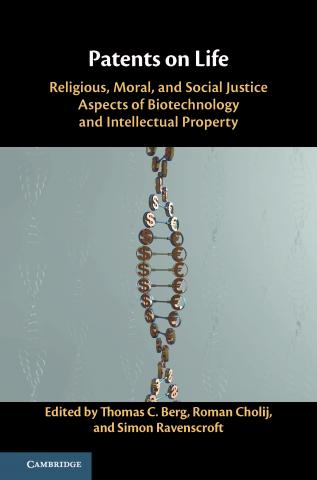 ---
UPDATE - PLEASE NOTE THAT THE CAMBRIDGE LAUNCH OF THE PATENTS ON LIFE BOOK ON FRIDAY 13 MARCH HAS BEEN CANCELLED. A SIMILAR EVENT IS TAKING PLACE IN LONDON ON THURSDAY 12 MARCH AT 6PM AND WILL BE BROADCAST AS A WEBINAR.
PLEASE FOLLOW THE LINK BELOW TO VIEW MORE DETAILS AND TO SIGN UP TO ATTEN THE EVENT BY WEBINAR:
---
A programme on Patents on Life: Law and Social Ethics marking publication of the Cambridge University Press book, Patents on Life: Religious, Moral, and Social Justice Aspects of Biotechnology and Intellectual Property (Berg, Cholij, and Ravenscroft eds., 2019).
The book covers an array of globally debated issues concerning the ownership of rewards from biotechnology, and the scope of moral or social-justice limits on patents or on licensing practices. It offers a unique collection of legal, ethical, political, and religious perspectives on:
Patenting of gene-sequence material
Use of traditional knowledge and genetic resources: "bioprospecting" or "biopiracy"?
Patents on genetically engineered crops: their effect on farmers' productivity and autonomy
Patents on gene-editing technology
Patents and access to biologic drugs
This volume is the result of a four-year collaborative project between the Von Hügel Institute for Critical Catholic Inquiry at St Edmund's College, Cambridge, and the Terrence J. Murphy Institute for Catholic Thought, Law, and Public Policy at the University of St Thomas, Minnesota.
Date:
Thursday, 12 March, 2020 - 18:00

to

Friday, 13 March, 2020 - 19:30
Event location:
Kilburn & Strode LLP Lacon London 84 Theobalds Road London WC1X 8NL